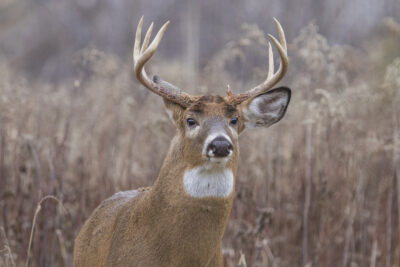 Section 9, Turtle Creek Township, Todd, Co, Along Norris Road – Turtle Creek TWP, Beck Lake Area
XTREME Whitetail Property
ONLINE Real Estate AUCTION – Closes  6:30pm Tuesday August 29th, 2023
Looking for an Xtreme Wildlife Property, where your desire to chase trophy whitetail bucks will be completely satisfied? Tucked in the marsh and woodlands against Beck Lake in Turtle Creek Township, Todd County in Minnesota , located midway between Browerville and Cushing, MN.
Here your trophy buck roams; waiting for his opportunity to face you one-on-one. As most seasoned hunters know, it's not always about the trophy; it is about the memories made and the opportunities provided for you to learn and grow as a sportsman. The Isolated hardwood rise on the side of isolated Beck lake is Swampy's home. Ageless Trails etching many paths across the marsh going from upland cropland to hide in the woodland. A productive marsh and Upland wooded lakeside hideaway property!
This is the place to fulfill your dream of a Trophy Whitetail Buck or a Secretive BEAR – Are you the demanding Hunter for This?
"Here is your own Xtreme Trophy Whitetail Hunting Property!"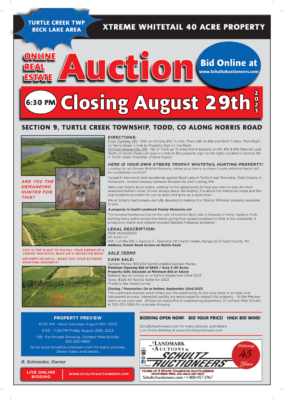 Archery or Rifle – Make This is Your Extreme Sporting Property
Bid Your Price!   $800 / Acre X 40 Acres Minimum Opening Bid
Legal Description:
PID# 24.0009700
40 Acres +/-
NW ¼ of the SW ¼ Section 9 , Township 131 (Turtle Creek), Range 32 of Todd County, Mn
Address: Gravel Road Access on Norris Road
 Directions: From Cushing, MN – NW on US Hwy #10, ¾ mile, Then Left on #18 and West 7 miles, Then Right on Norris Road ½ mile to Property Sign on the Right.
OR from Browerville, MN, NE of Town go 10 miles North Easterly on #5, #16 & #18 Then left and North on Norris Road just over a ½ mile to the property sign on the right. Located in Section #9 in Turtle Creek Township. (Follow Signs)
SALE TERMS
CASH SALE: Earnest Money: $10,000 Nonrefundable Earnest Money, Minimum Opening Bid of $800 / Acre X 40 Acres
Property Sells Absolute at Minimum Bid or Above
Balance due at closing on or before September 22nd 2023
Taxes: $328 All Paid by Seller for 2023
Property has recent survey
Closing / Possession: On or before, September 22nd 2023
_____________________________________
ONLINE BIDDING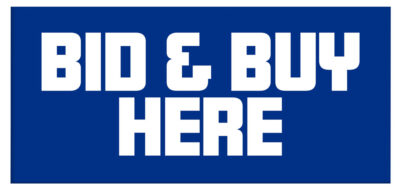 ________________________________________
PROPERTY PREVIEW
10:30 am – Noon Saturday August 19th, 2023
5:00  – 7:00 pm Friday August 25th, 2023
OR:  For Private Showing, Contact Mike Schultz 320-232-0850
BIDDING OPEN NOW!      BID YOUR PRICE!      HIGH BID WINS!
The Opportunity is Yours!