Gunderson Bros Retirement Farm Machinery Auction
LARGE UPSALA / ELMDALE, MN AREA AUCTION
Located 2 ¼ miles East of Upsala, Mn on Hwy #238 at 6631 Hwy 238, Bowlus, Mn 56314
Friday March 6th, 2020, Beginning at 10:30 am
(Alternate Storm Date: Sat March 7th, 2020) (Check Website or KASM 1150 Radio for changes/updates)
Note: Be on TIME! very few small items!
****Sale order: *****
11:15 am Tillage followed by tractors before NOON! Make plans accordingly.
Online Bidding – Click Below To View Online Catalog
David & Fred Gunderson have retired from farming. Schultz Auctioneers is honored to represent the Gunderson Family. Last Spring, we SOLD their 360 Acre Farm for them at Auction. The Farm is under new management. Now we will SELL the Gunderson Brothers Quality Farm Equipment. Their machinery has always been well cared for, well maintained and shedded. You will find it in excellent condition, ready for your spring field work!
This is also a tremendous opportunity to acquire well cared for Pre Tech, low hour, John Deere tractors, to add to your farming operation!
IMPORTANT BUYER INFORMATION
Because the farm is under new ownership, the machinery will not be available for viewing until Wednesday and Thursday March 4th and 5th . David and Fred Gunderson and the Auction Staff will be available onsite Wednesday, Thursday and March 4 th and 5th. Please call David Gunderson at 320.292.7177 with any specific equipment questions you may have.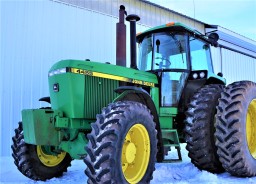 1990 John Deere 4455 MFWD Tractor, 15 speed powershift transmission, 10 suite case weights, Triple Hydraulic, Cat III 3 pt. 540/1000 pto, 18.4 x 42 Radial rear tires with fluid, with Hub Duals, 14.9 R28 front tires, 7662 hours CAH Radio, SN# RW4455P008308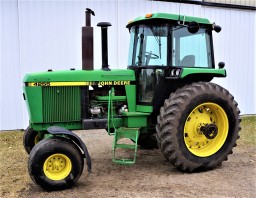 1990 John Deere 4255 Tractor, 15 speed power shift, CAH Radio , 540/1000 pto, Dual Hyd, 3pt, , 18.4 x 38 radial tires, 8,378hours SN# RW4255P003766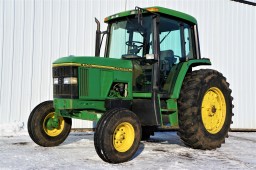 1996 John Deere 6400 Tractor, 16 Power Quad Transmission, Cab A H Radio, Dual Hyd 3pt, 540/1000 pto, 18.4 X 34 Radial Tires, 8661 hours
1978 John Deere 4240 Tractor, 8 Speed Powershift, Dual hyd, 540/1000 pto , 3pt, CAH Radio, and 18.4 x 38 Radial tires 7029 hours, SN #4240P005131R with John Deere 158 Loader with Joy Sick control, with Bucket with skidloader quick tach adapter plate
John Deere 500 Series A diesel Loader Tractor with Backhoe, 8 speed power shift, with power reverse, SN # 000680
1010 John Deere gas Utility Tractor, 4 cyl, wf, 3 pt, 540 pto, 11.2 X 24 tires, SN# 47882 (1964)
1950 John Deere B Tractor, NF, with Rollomatic front, Sq axel, 12-38 tires, SN# 259591
1951 M Farmall gas tractor, narrow front 13.6 x 38 tires # FBK 273466
John Deere 680 pull type 11 Shank 11 ft Chisel Plow
John Deere 722, 19.5'ft Coil Tine Soil Finisher with five bar mulcher
John Deere 980, 25.5 ft. Field Cultivator , Walking Tandems, 51 shovels and 3 bar mulcher
IH 770 6 bottom 16" spring reset on land pull type plow with cylinder
John Deere 5 section 5 bar Hydraulic fold Drag
Harley Model A Rock Picker with high dump box
Harley PTO 20 foot V Rock Rake
John Deere 8300 12ft Grain Drill with grass attachment
12ft Rubber Tire Field Packer
John Deere 7000 4 row 36" Corn Planter with dry fertilizer and bean cups, Dickey John monitor, herbicide boxes.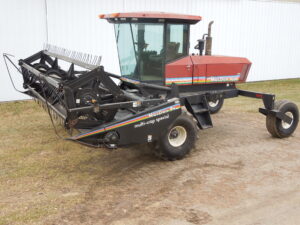 Mac Don 9200 Self Propelled Hydrostatic drive Windrower with 942 Multi Crop Special 15 ft head, with hay conditioner, Cab with a/c, radio, 4 cylinder Cummins Diesel, 1516 hrs 21.5L-16 Drive tires, 16.5L-16.1SL rear tires, SN# 98815
Vermeer 554 XL Series Round Baler (5637 bales) (new 2004)
John Deere 348T 14 x 18 Square Baler with #42 bale ejector, electric controls, hyd bale tension (new 2009) #E00348T351141
(2) 9 x 18 all metal Kicker Racks with rear and side unload with JD 1064 gears
Flat Bed 16' Hay Rack with JD 963 Wagon
Kuhn Speedrake SR 112, 12 wheel V Rake SN E2815 (new 2011)
H&S PTO 8' Hay Tedder
John Deere 894 A side delivery 4 bar rake, rubber teeth
3955 John Deere Forage Harvester, Electric/Hydraulic controls, with hydro swing hitch, SN # E03955X310039
John Deere 2 row wide, RRC Forage Crop Harvester Header unit
Corn Cracker plate to fit 3955
John Deere 7ft Hay head (Fits JD 3955 forage harvester)
(2) H&S 501 16' Forage Chopper Boxes with H&S 12 Ton tandem wagon gears, ext pole
(1) H&S 501 14' silage box on JD 1065 A wagon gear
H&S 860 Forage Blower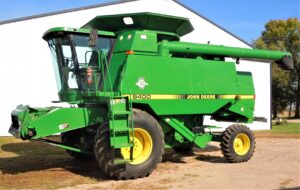 1997 John Deere 9400 Combine, CAH Radio, Oversized tires 30.5L-32 tires
3980 Engine hours, 2716 Separator hours #H09400X670214 with Tank Flare Topper attachment and Bin Hopper Topper tarp
John Deere 212 Grain Dummy Head with 5 belt pickup with cart
444 JD Combine 4 row wide adjustable 36 inch corn head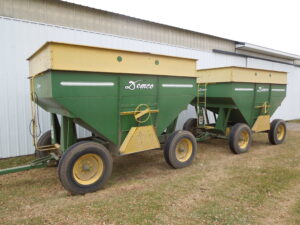 (2) Demco 365 bu gravity wagons with Demco wagon gears with ext pole, 11R 22.5 tires, elec light plug
Killbros model 350 gravity wagon with JD 1065 gear 12L 15 tires
Killbros model 350 gravity wagon with Gebl running gear 12L 15 tires
Huskee Gravity Wagon, with 6 ton Electric wagon gear
Westfield MK 80-61 8" 61' Hyd lift PTO Grain Auger with swing away hopper (new 2017)
Loyal single chain 20' elevator on transport with electric motor
Snow Co 2 stage grain screener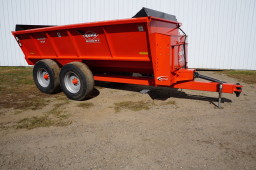 Kuhn Knight 8124 Pro Twin Slinger 2400 gallon manure spreader, with walking tandem axels (new 2012)
John Deere 780 Hydro Push Manure Spreader, with walking tandem axels
Van Dale 3000 Tank Spreader with Hesston self loading/unloading adaptation
Patz pto manure agitator prop 3pt 18 ft
White 14 ft Tandem Heavy Duty Disc
John Deere AW 15' Tandem Disc with harrow
John Deere 845 rear mounted 36"cultivator with Danish tines
John Deere RG4 rear mounted 36" cultivator Danish tines
John Deere Front mounted 4 row wide Corn Cultivator with rear gang and Danish tines
Flare box with JD 953 wagon and Hyd hoist
Flare box with New Idea wagon and Hyd hoist
Brady model 144 12ft, 4 row wide stalk chopper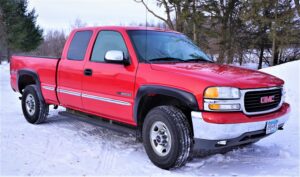 2000 GMC 4WD ¾ ton Pickup Truck,
6.0 V8 engine AT 166k miles A/C AM/FM Extended Cab (6.5 ft short box) 265 75 R16 tires
2011 Kawasaki Mule 4010 4 x 4 with dump box , 690 hours
6.6 X 16 metal Flatbed Car Hauler trailer with ramps
(3) sets Anderson Automatic wagon hitches
Plus (1) wagon receiver
3020 John Deere Wide Front with tires
Set of Front weights for 3020-4020 and brackets
3 point quick hitch
JD Drawbar to fit 40 / 50 series
Set of H&M Farmall Wheel Weights
3Pt Howse 5ft Rotary Brush Cutter
(5) Skidsteer Attachments
78" Virning Skeleton Rock Fork
High back 72" material bucket
HD Rock Fork
Single Round Spear,
3 Tine Big Square Bale Fork
3pt 8' Bison rear Blade
Hyd Fertilizer Auger fits Kill Bros Wagon
18.4 – 38 Hub Duals fit 4240-55 sell with axel hubs
16.9- 34 Band Duals
John Deere hand held Grain Moisture Tester
Dairy Vac
(2) Plastic Auger Hoppers
16 ft 4 inch grain auger with motor
Hero #1 Fanning Mill
Farmhand loader to fit Ford Jubilee
Wooden Pick up calf box
Misc good Farm tires and rims
Bobcat Tires
Steel Fence Posts , Plow Parts
3 Point Carrier Box
Assorted Cattle Panels and gates
Ritchie Waterer
4 ft barn fan
Other Farm Miscellaneous
Online Bidding – Click Below To View Online Catalog
Gunderson Brothers Spring Tillage, breaking up the snow for the auction parking lot. You are invited to the fantastic Gunderson Brothers Farm Machinery Auction March 6th 2020. See you there!
"Quality Farm Machinery from an Excellent Operation!…."
"A Standing Farm Reputation Since 1950"
"Home of 2013 Morrison County Breakfast on the Farm!"
"Morrison County 2016 Farm Family of the Year – University of MN"
David & Patti Gunderson
Alan (Fred) & Tina Gunderson (Owners)
Auction Terms: Cash, Good bankable check, Credit cards. All items sold
as-is, where-is with no warranties or guarantees of any kind. All items must
be paid for at the conclusion of auction prior to removal from location.
Everything removed within seven days. Any verbal announcement made by
auctioneer will take precedence over any and all printed material.
Auctioneers and their staff are not responsible for accidents. Out of area
buyers please bring letter of credit.