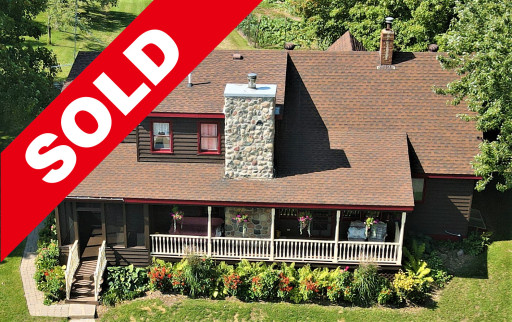 Located in the Avon Hills
Online Real Estate AUCTION
Online Bidding – Click Below To View Online Catalog
6:30 pm Closing Tuesday, September 28th, 2021
Classic Country 4 Bedroom Home
2,500 square foot, 4 Plus Bedroom, 3 bath, Classic Country home
Fabulous Fieldstone Fireplace to share with friends and family
Gracious East Open Porch overlooking gardens and growing hoops a quiet place to enjoy your morning coffee
Room to entertain on the large west deck and patio with bubbling fountain beside the Enchanting Cedar lined Gazebo. With a glass of wine and a book, this is a place to cherish, overlooking the grape arbor, gardens, and the apple orchard on the west lawns.
Beautiful Hosta and flower gardens
Plant Growing 24 X 84 High Tunnel Green house with trickle / drip irrigation
(3) Black Mesh Growing Hoops 14 X 24, 14 X 20, 13 X 36
Hill side 18 X 30 Garden Shed
Garden Sales Shed 11 X 11.8 with Covered Entry
26 X 36 X 10 ft, 2 plus Car Garage and Shop with side 4.8 ft X 30 ft Hot House grow shed
12 X 16 Chicken Barn
Fenced Waterfowl Pond
Classic Country Home on 15.5 Wooded Acres in the Avon Hills Community
Secluded Avon Hills Setting – 1 ½ miles West of St John's on Fruit Farm Road
Gardens and Growing Center
Multi-use potential – Bed & Breakfast – AirBnb – Wedding Venue – A home for you "Home of Woodland Hostas Gardens and Growing Center"
Bring your "Green Thumb"! Continue the Hosta Business & More!
Hosta production center
Apple Orchards
Berry Production
Grape Arbor
2 acres of mature Pines
10 Acres of Maple Syrup Forest with Walking and 4 wheel trails, Wooded Hunting
Recreational Land Nestled in the Avon Hills
15387 Fruit Farm Road, St. Joseph, Mn 56374
Enjoy Country Living in the Avon Hills!
PID# 05.02627.0000
A 12.10 Acre parcel in the NE ¼ SE ¼ Located South of the road in Section 03, Township 124, Range 30 of Stearns County, Mn Subject to Survey
Address: 15387 Fruit Farm Road, St. Joseph, Mn 56374
Just East of Collegeville Orchards on Fruit Farm Road and just over a mile and half West of St. John's College,
Directions: From Avon: #9 On the South side of I-94, East on #159 just over a half mile, then right and South on #50 just over 1.5 miles Then Left on Fruit Farm Road, just over a ½ mile to the Woodland Hosta's Homesite on the South side of the road at 15387 Fruit Farm Road. (Follow Signs)
CASH SALE: $10,000 Nonrefundable Earnest Money,
Minimum Opening Bid of $380,000.
Property Sells Absolute at Minimum Bid or Above
Balance due at closing on or before November 18 th , 2021
BIDDING OPEN NOW!
BID YOUR PRICE!
HIGH BID WINS!
Go to www.SchultzAuctioneers.com for many pictures, and details
Live Online Bidding at www.Proxibid.com/Schultz
__________________________________________
PROPERTY PREVIEW (Boxed In)
9:30 – 11:30 Saturday, September 18th, 2021
5:00 – 7:00 Tuesday, Sept. 21st, 2021
OR: For Private Showing, Contact Mike Schultz 320.232.0850
Go to www.SchultzAuctioneers.com for many pictures, Drone Video, and details.
The Opportunity is Yours!
6:30 pm Closing Tuesday September 28 th , 2021
Go to www.SchultzAuctioneers.com for complete property
information Video and many photos
November 18 th , 2021 Closing / Possession
** Make your plans to purchase this Fabulous Classic Country Home on 12.10 Acres in
the Avon Hills! **