SE Long Prairie Area — Long Prairie Township
40 Acre Farm Real Estate
&
Machinery Auction
Robert (Robi) Robinson is almost 95. He has decided that it is time to sell his Farm Real Estate and Farm Machinery
Directions: Property located 2 miles Southeast of Long Prairie, MN on State Hwy #287. Then left and East on 220th Street, ¼ of a mile to 25886 220th Street, Long Prairie – Located on the North side of the road. (Follow signs)
Friday June 2nd, 2023 Beginning at 10:00 AM
SELLING ORDER
• Farm Real Estate Sells at 10:00 AM (Live Onsite Only)
• Farm Equipment & Machinery beginning at 10:30 AM
• (Proxibid Online Bidding Available on Machinery)
• Tractors Sell at NOON
• Followed by Round Bales of Hay, Grove and Salvage Equipment
______________________________________________
40 Acre Farm Real Estate
"TREMENDOUS OPPORTUNITY!"
• Approximately 30 Desirable Tillable Acres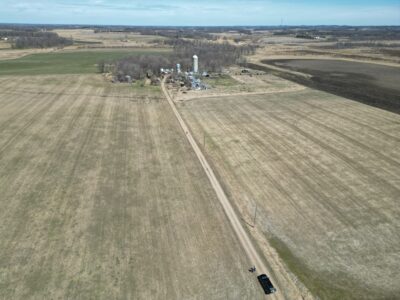 Gently sloping to Level Lying fields, Currently in Upland Hay
• Approximate 10 Acre Building Site
• Older 4 bedroom 2 story home
• Farmstead Area with silos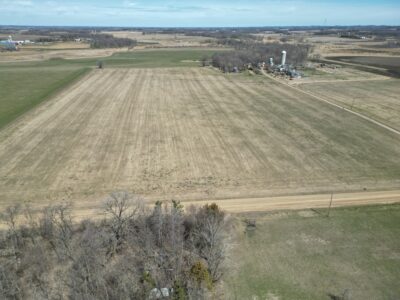 Legal Description:
The SE ¼ of the SW 1/4 , Section 27, Twp 129N, (Long Prairie Twp) Range 33 W of Todd County (Being 39.72 Acres – 2022 Survey)
Property ID #18-0031800
Property has one quarter of a mile road frontage on 220th Street, Long Prairie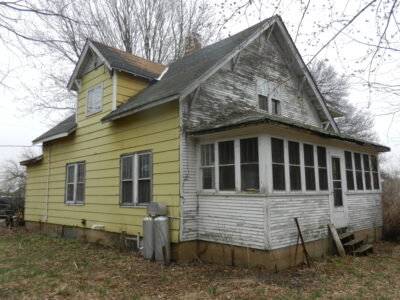 NOTE:
In his day, Robert ran a good dairy farm operation. And raised his family here. Time has taken it's toll on the building site. Over the years, winter snows have taken down all the primary out buildings. This is a good building site location. It will need to be cleared and brought back to your farm desires. BID YOUR PRICE!
Property Sells Without Reserve!
We as for your understanding……Due to its condition—
There will be NO PUBLIC PREVIEW of the property!
You may view videos, and pictures and drone photography of the home and farmstead.  WE WILL BE ADDING MORE SOON!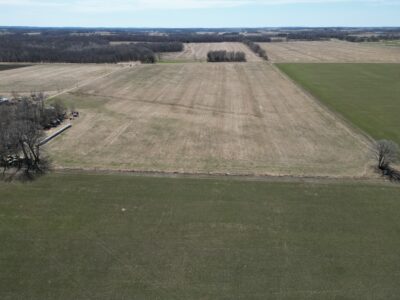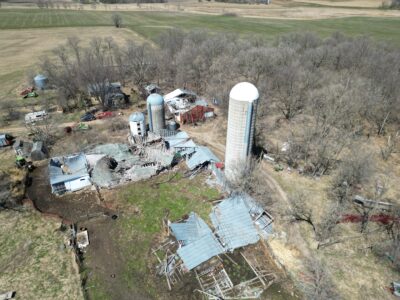 SERIOUS BUYERS:
Please contact Mike Schultz @ 320-232-0850 for a private drive thru only showing!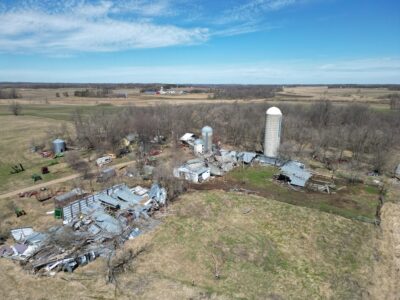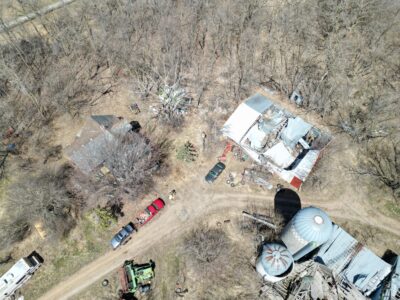 SALE TERMS
Property Sells in AS IS CONDTION!
CASH SALE
Earnest Money: $10,000 Non Refundable
Balance due at Closing
CLOSING & POSSESSION on or before: July 14th, 2023
Real Estate Taxes due in 2023 ALL PAID by SELLER
This is Your opportunity to acquire a 40 acre farm located near Long Prairie at your Price!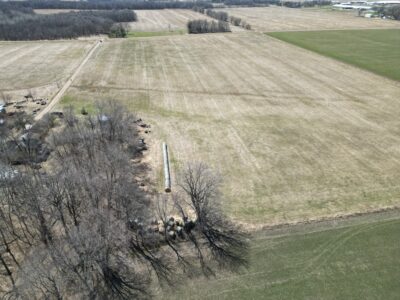 ______________________________________________
Can't make it to the Auction? Bid live online on Machinery!
Visit www.Proxibid.com/SchultzAuctioneers
______________________________________________
Working & Collectable TRACTORS
4430 John Deere Diesel Tractor, quad range
2 SCV, 3 point, WF, 18.4 X38 tires w hub duals,
SN# 008679R (Sound guard cab in poor shape)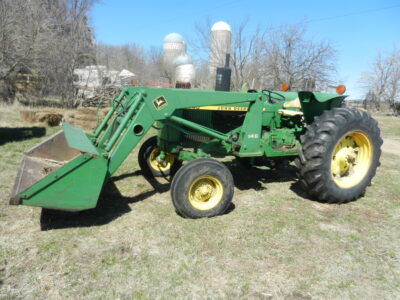 2440 John Deere Diesel Tractor with 146 John Deere Loader
WF. 3 point, single hyd, 540 pto, SN# 258747T
1600 Oliver Diesel Tractor w Year Around cab, 3 point, dual hyd
16.9 X 34 tires
720 John Deere Diesel Tractor with pony motor, Schwartz WF, 3 Point
(Restoration project tractor)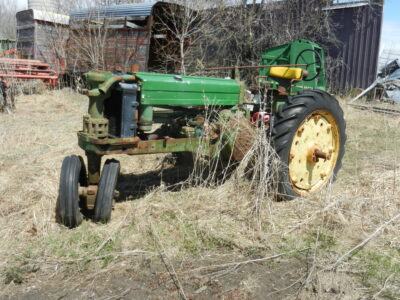 50 John Deere tractor,
NF, Live Hyd, power steering, rollo matic
Sn# 5030688 (project tractor) (new head)
DC Case Tractor with 13.6 X 38 tires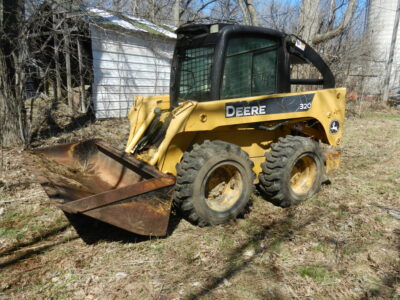 SKID STEER
320 John Deere Skid steer loader,
good rubber, SN# 123944 w bucket
ATTACHMENTS
Skid loader attach bale mover
Bale fork, Skid loader bucket with grapple
12 ft Skid steer farm trailer
TILLAGE
6 X 16 3600 John Deere On Land pull type plow with Auto Spring reset
3 X 16 F145 John Deere trip bottom semi mounted plow
Hinniker 14 shank chisel plow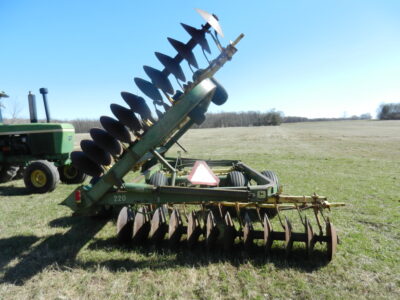 220 John Deere Center fold 18 foot disc
1000 John Deere 24 foot digger with fold up wings with 3 bar harrow
12 ft John Deere B246B grain drill with seeder attachment
Vintage 12 foot Brillion 3 section packer
FORAGE
3800 John Deere Forage Chopper with 3 row 30 inch corn head
Rex front unload silage box with 1065 JD wagon
Silage box with walking tandem wagon
(6) old front unloading silage boxes with wagons
New Holland 28 Whirl a feed 540 pto silage blower
HAYING EQUIPMENT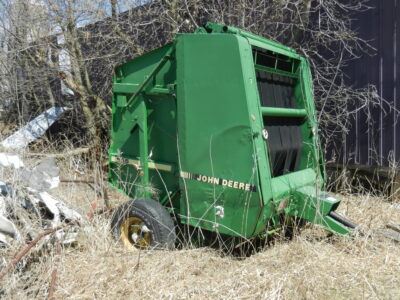 535 John Deere Round Baler with Monitor
241 IH Round baler
2400 IH Round Baler
John Deere 336 Square baler with #30 bale thrower
499 New Holland 12 foot, Roll-A-Bar Reel, Haybine with Hydra Swing hitch
2275 14 foot Gehl Hydro Swing Haybine
260 Owatonna 14 foot Hydrostatic Swather with 6 cylinder Ford motor
260 Owatonna 12 foot Hydrostatic Swather with Mac Don pickup reel
And Ford motor
56 New Holland side delivery rake
#26 Massey Harris Side Delivery 6 bar rake
8 X 16 metal kicker rack with wagon
Kicker bale rack and wagon
3 metal bale kicker racks (unassembled)
Round bale rack with wagon
Truck frame round bale wagon
3 point Hesston Bale Mover
3 point round bale spear
(2) 250 bu Parker Gravity boxes with Parker wagons
250 bu Gravity box with Harms wagon
Gravity box with wagon
(7) wagons including JD 963 &1065A, Harms & Others
13.5 ft flatbed on wagon
Metal box wood wagon with wagon & hoist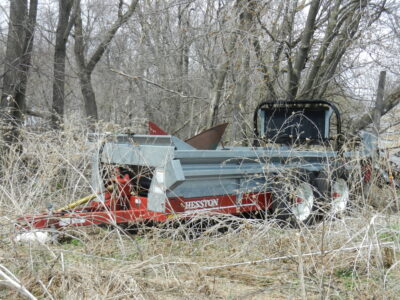 MANURE SPREADER
S320 Hesston Manure Spreader w Poly floor, hyd end gate & upper beaters SN# HP20138
TRAILERS
Triggs Deluxe Airline 6.5 X 20 foot Gooseneck Livestock Trailer
(needs light restoration)
8 X 18 foot Dakota Trail Eze gooseneck machinery trailer with 5 foot beaver tail and fold down ramps, (needs floor) 12 X 16.5 tandem wheels
TARTER Livestock Working System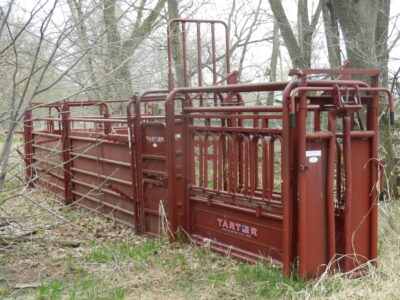 Including Series 6 Livestock working Chute with Automatic head gate,
Palpation cage, (2) 10 foot adjustable sheeted crowding alleys,
Sheeted 180 X 10 – crowding tub with 180 degree – 10 ft swing gate Sweep System
(Like New- has been used 3 times)
(4) 24 foot standing heavy pipe livestock fence sections
Single Head gate
Pamline cattle oiler
EQUIPMENT
LT8 Versatile 50 foot, pto, grain auger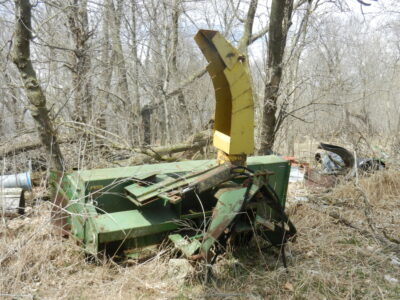 Model 270 John Deere 8 foot dual auger 2 stage 3 point snow blower
Little Auggie 3 auger, side discharge mixer feeder wagon
340 Dual Hydraulic loader with grapple
Paulson Loader for parts
1,000 gal diesel fuel barrel with Electric Pump
100 gal Slip fuel Barrel
7 ft 3 point grader blade
John Deere Grinder Mixer
John Deere rock box
(2) John Deere Bale Kickers for square baler
Pair 16 x 38 rims
40 inch round steel grate
10 ft X 24 inch I Beam road drag
Pair 18.4 X 34 rims with tires
Pair of 18.4 X 34 band duals
7 John Deere Suit Case weights
YARD
340 Hustler Hydrostatic Lawn Mower with 60 inch deck, with Kubota 4 cyl diesel motor
Husqvarna HU 675 HWT walk behind string trimmer
MISC
6+ JD high pressure hydraulic cylinders
Steel wheels
JD Cast tractor wheel
4+ rolls of new barb wire, assorted fencing supplies
(6) bundles of new 6 ft Steel T posts
Many plow coulters, many wheels and tires, older welders,
Shop equipment and supplies to be found as we dig them out
Air compressors and portable tanks, battery chargers, vintage car and equipment parts, Holstein Friesen Farm Sign,
2420 Aluminum work plank 24" X 20 ft
3/4 inch drive socket set, large amount of hand & power tools to be found as we dig them out of the down buildings!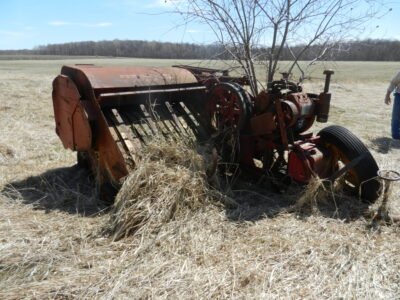 COLLECTABLE
Vintage 4 wheel steel pull type road grader with 8 foot blade
Wards metal Spoke wheel wagon gear
RG2 John Deere rear mounted 2 row cultivator
Front mounted JD sickle mower
Collectable Super 77 New Holland Square baler with front mounted Wisconsin engine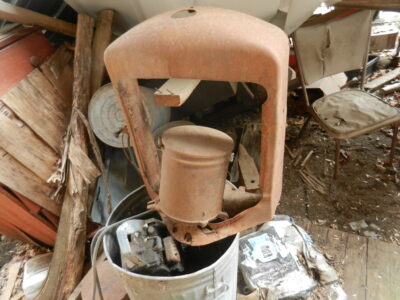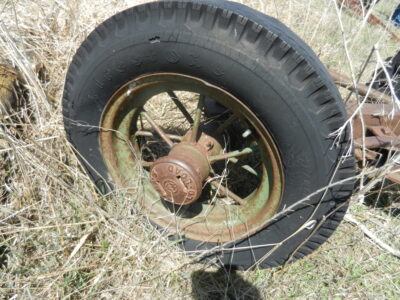 SALVAGE
3 elevators and other grove machinery)
(2) Chevrolet pickup tailgates
2002 Buick Le Sabre sedan
Older Sportsman Den Winnebago motorhome
'78 Jetta VW
Yellow Chevrolet Van
HAY
Approximately 45 large Round Bales of 2022 Net Wrapped Upland Hay
______________________________________________
THERE WILL BE MANY BARN FINDS!
Many "Barn Finds" will be unearthed as we dig through the building site.
There are supposed to be 4-5 gas engines…yet to be found & dug out! Go to SchultzAuctioneers.com for updates and pictures! Come prepared for surprises and items that 'surface"!
Make Plans to attend the best old farmstead auction of the season!
______________________________________________
Robert (Robi) Robinson, Owner